All Packed - 182 lbs. Total!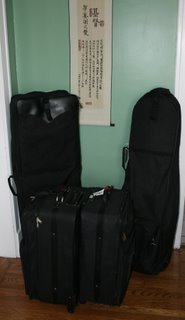 All of our checked luggage is packed and ready to go. Here are some of the things we packed:
Complete Chalk Easel and paper (aprox. 100 lbs.)
38 lbs. of American food for the Missionaries in Taiwan
Kitchen utensils not available in Taiwan

Music
Clothes

Our total weight is 182 lbs. (still 18 lbs. under the limit, but with no more room). Now, we need to get our carry-on packed.
God's provision:
My old easel bag (golf bag) has been in awful shape the last year. It has survived two trips to South Africa and all across the USA. It was filled with holes and rips. There was no way it was going to survive a trans-Pacific flight to Taiwan.
I did not replace it because a new travel golf bag costs nearly $100, and they do not make them like my old bag anymore. We had been praying that I could find one just like the one I had.
This last week, Evelyn went shopping with her mother. They decided to comb all the Goodwill and Salvation Army thrift stores in the area for a replacement golf bag. The Lord answered our prayers at one of the Goodwill stores. This store had
two
travel golf bags - one exactly like the old one, except in relatively new condition. We ended up getting both golf bags for the total price of $10! Praise the Lord!
Labels: Taiwan 2009