Our Church Sending Us Away
By the Lord's amazing working, this Sunday ended up having a missionary focus. It was a great joy to have missionaries Vince and Renee Bolles present (preparing to go to the Philippines). We also "happened" to have missionaries headed for Japan visiting the church.
Brother Bolles' message was very special to us. He preached on how we must have the Holy Spirit's enabling power in our life and ministry. Whether on a foreign mission field or at home, all of us need to rest solely in the Lord and in His unchanging faithfulness.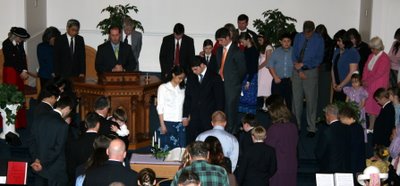 After the morning service, the church had a special time of prayer and sending. The leaders of our church prayed for us and sent us as the rest of the congregation stood around.
Thank you
Fellowship Baptist Church
for your love, support, and prayers!
Labels: Taiwan 2009