Please Pray For Us!
This has been a very full weekend for us. Stephen did a chalk talk this Saturday evening at Mountaintop Baptist Church, which is about 25 minutes away from Kaohsiung.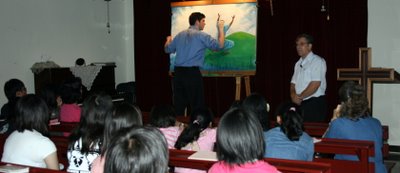 During Sunday tomorrow, we will spend the entire day with Mountaintop Baptist Church. In addition to sharing during the Sunday school hour, Stephen will preach with chalk during the morning and evening services. Evelyn will also be providing the special music for all three services. Please pray that we would not be ministering in our own strength, but that the Lord would work through us and that He would be glorified.
We especially appreciate your prayers as Stephen preaches through a translator. Having a translator repeat everything word for word means that Stephen has half of the actual time to preach. Thus a 30 minute message would last for 1 hour with a translator. Pray that he would know how to effectively present God's Word. Thank you!
Labels: Taiwan 2009