Morning Market
This morning, missionaries Pat and Mary Delaney and their daughter, Elizabeth, took us with them to the Morning Wet Market. It is the Chinese version of a farmer's market, except with more variety. Fresh vegetables, fruits, and meats are the main fairs. The Delaneys get their produce there, since the farmers bring them in fresh everyday. As you may see from the pictures below, the morning market is an exciting place!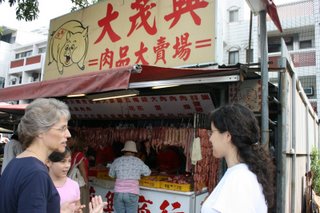 Mrs. Delaney, Elizabeth, and Evelyn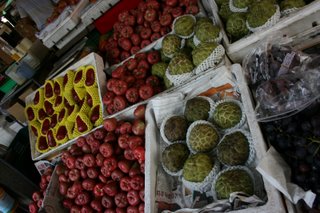 A couple of the regional fruits - NOT apples and grapefruit. Take a closer look.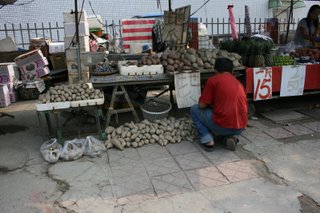 Potatoes, potatoes, sweet potatoes ...

Customers usually just swing up to the stands in their scooters, make their purchase, and scooter away. The vendors aggressively present their products.

Familiar fruits.

More familiar fruits.

Farmer with his vegetables.

People, and more people and scooters!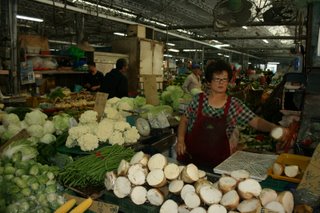 Lady with her vegetables. After taking her picture, she exclaimed (in Chinese), "You are taking my picture? I must be very beautiful!"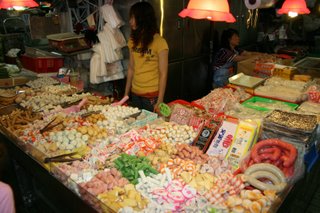 Various fish balls, tempura, and sausages. For those who've never tried it before, they are
delicious
!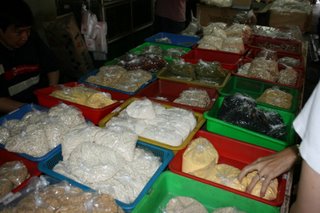 Grains and legumes - cornmeal, red beans, green beans, pinto beans, barley, and more.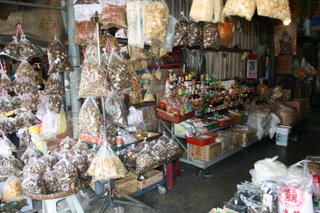 Dried shitake mushrooms, wood ear fungus, etc.

It's an experience one will never forget, but the market is also a daily part of life for the people.

Labels: Taiwan 2009