"Have you seen 3 things God cannot do?" - The Gospel at the 4-H Fair!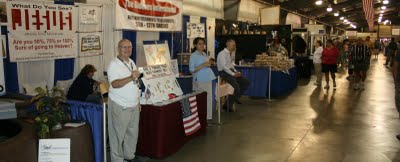 This past week many from our church helped with the Amazing Grace Mission booth at the St. Joe County 4-H Fair. As people would walk through the commercial exhibit hall, we would hand them a "smiley" tract and ask, "Have you seen 3 things that God cannot do? Did you think that God could do anything? There are some things He cannot do! Open the first door and see!"
1. God cannot lie - Titus 1:2 - "In hope of eternal life, which God, that cannot lie, promised before the world began;"
2. God cannot change - Malachi 3:6 - "For I am the LORD, I change not; therefore ye sons of Jacob are not consumed."
3. God cannot let you into heaven unless you have been born again! - John 3:3 - "Jesus answered and said unto him, Verily, verily, I say unto thee, Except a man be born again, he cannot see the kingdom of God."
Then we asked, "Are you 50%, 75% or 100% sure that you are going to heaven when you die?" If they said 100%, we would ask them why, seeking to verify that they were relying fully on the work of Jesus Christ. If they said anything else, we would invite them to sit down with us in the booth so that we could show them from the Bible how they could know 100% that they were saved and going to heaven when they die.
We praise the Lord for 6,000 tracts distributed and 146 decisions that were made this week. Please pray that God will continue to work through the tracts. Pray for our church and other Baptist churches in the area who are following up on and discipling each person that made a decision.