Discipleship and a First Aid Kit
Evelyn and I along with others from the church are following up and seeking to disciple those who made professions during our Memorial Day and 4-H Fair outreach. It has been a challenging yet rewarding ministry. We have received many different responses. One particular has been very special to us.
We came to visit two children from one home. When they found out that we were from the Church, they went to get their "God Boxes." As I waited, I wondered what a "God Box" was. The girl came back with this: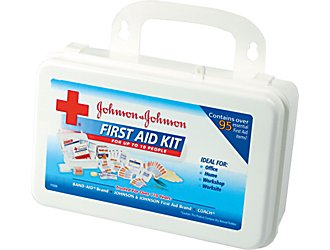 There are many parallels between a First-Aid Kit and the needs of sinful mankind. When we opened it, we found everything she had received that had to do with God--a pocket New Testament and several gospel tracts. We quickly found, however, that these children knew basically nothing about God or the Bible.
It has been a great joy and challenge to teach them the basics of the Bible at their home each week. Please pray for them both. The boy has made a profession for Christ, but not the girl. Please pray for Evelyn and I as we seek to disciple them and reach out to their family.